My 2013 ended on a high note, when I was able to attend a Q&A session with my role model Bill Gates in Berlin in December.  Listening to his manicured speech for humanity, I did however ask myself, "Do I want to build a business empire and afterwards give away the majority of my profits to a good cause?" As commendable as that is, my answer was nevertheless "No!"  I don't think the world can wait another decade until I have made enough money to make a significant difference. I have to start today!
Critical Consumers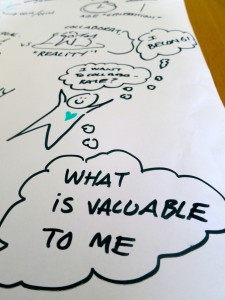 When I look to my group of peers, however, I see plenty of role models. Generation Y should really have been named 'Generation Why?' In our search for meaning and motivation we keep asking critical questions of media, of politicians, of society but not least we ask questions as consumers. Big brands can no longer sleep on their laurels and the welfare state is under pressure. 'Business as usual' has become a risky strategy when citizens and consumers are well informed and highly interconnected through technology. Business and society cannot be seen as opponents; they are mutually dependent. There will be no market without consumers, and when demand is changing, so should business.
Business Opportunities
Open any European newspaper and you will read about rising oil prices, global warming, urbanisation, relative poverty increasing and the 'elder burden' putting pressure on the healthcare system. There are enough societal challenges to cause a collective depression, but it is said that 'Worrying is about as effective as solving an algebra equation by chewing bubble gum.' It is time to act, not just because it is needed, but because it makes perfect sense also in a business context. In Europe the demographic is changing and creating new business opportunities.
Business with Purpose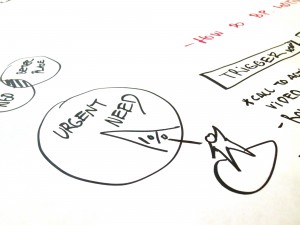 What happens then, when Generation Ys decide to start new businesses? We see a new generation of entrepreneurs starting to emerge, where social responsibility is not merely a 'nice to have,' but a 'need to have.' Human, environmental or societal needs are now at the core of the business. It is both a reason for being and the reason for being.  It gives meaning and it provides a market.
Here are some examples.
The Berlin-based startup 's vision is to provide affordable and non-invasive family planning tools for women. In the process they are targeting a global contraceptive market estimated at the value of €17 billion in 2018 (*source).
Berlin- and London-based startup is harnessing the power of crowds to make sure freelancers and SMEs get paid on time. According to the Financial Times, overdue payments across the economy in the UK in April 2013 amounted to €36.1 billion (*source).
Berlin- and Atlanta-based SEEDR is the first to build non-freezing vaccination containers, which both save costs for the system and enable new routine immunisation outreach strategies. Each year, according to UNICEF, 70 percent of the value of vaccines they procure for developing countries are deactivated by freezing. With 90 percent of vaccines currently being exposed to freezing, that's putting  €481 million at risk each year.
The new business mantra is 'Doing well, by doing good.' The CEO of the future is more likely to drive a Tesla than a Mercedes.
The Rise of Social Consultants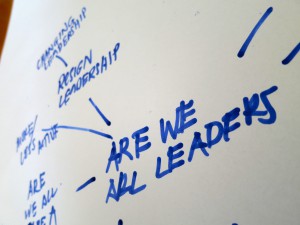 The question is, will established businesses be flexible, agile and innovative enough to meet changing societal needs and consumer demands? To respond to this challenge, an increasing number of established German businesses such as Deutsche Telekom, SAP and Bayer and other large international corporations like Microsoft, Google and Coca Cola, have started incubation programmes and accelerators. Their strategies and objectives vary, but the question remains: Are there enough talented people and quality startups waiting to be incubated in Berlin for this strategy to provide a competitive edge for the establishment? Moreover, the importance of harnessing the innovative capacity of the existing employees in parallel to this process should not be forgotten.
Also here, we see Generation Y spotting a business opportunity. The supply of social business consultants are increasing in correspondence with the number of graduates from schools like Hasso Plattner Institute of Design Thinking in Potsdam, The KaosPilots in Denmark and triple- bottom-line focused MBA programs at Oxford, Stanford and Harvard.
Learning While Doing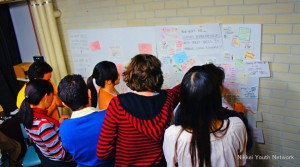 Discussing social innovation with Carsten Meier, one of the five founders of the newly established Berlin-based consultancy Intraprenör, he mentioned that they had started from a "passionate interest" and "the idea of doing something that matters." Being fresh out of university is no longer seen as a weakness, but rather as an opportunity. Using Steve Jobs' lingo, one may say that they are "foolish and hungry" and therefor able to work and learn together with their clients. Enhancing corporate learning capacity will be a vital business asset in the future, as recognised by the Leonardo – European Corporate Learning Award. If businesses aim to succeed in implementing new corporate social innovation and design thinking strategies, the theories and processes need to be adapted to the existing corporate culture. Hence, the role of the new generation of social business consultants is no longer to solve the problem "for" a business, but to solve the problem "with" the business. The question is to what extend the establishment will be able to embrace a "fail faster to learn quicker" mindset.