In this interview, we talk to the co-founders of TravelSpend, Jonas Lüthke and Ina Wortmann. As a couple, they share many things, including their passion for travel, independence, and product development. Their app began as a side project but, after almost immediate traction, they decided to take it to the next level. 
What are your specific roles in the company?
Jonas: We both have a strong product focus. When it comes to development, I usually work on our Android app. I'm also doing most of the design work.
Ina: The iOS app is mainly my responsibility. Apart from that, we usually cover all areas together. We really like the idea that both of us can do and decide everything together.
How many co-founders do you have?
Jonas: Ina is my co-founder and my life partner too. We met at university in Hamburg and we've been together for over nine years.
Where are you from?
Jonas: Originally from Oldenburg, Germany
Ina: Lüdenscheid, a small town close to Dortmund.
How long ago did you start your company?
Jonas: We founded our company a few months ago in March, 2020. But the idea for TravelSpend was born some time ago during a trip through Southeast Asia. In 2016, after spending two years in London we quit our jobs to take some time off and travel for a while. We had saved up € 6,000 each and wanted to travel for at least six months. Soon after starting our adventure in Hanoi, Vietnam we realized that we needed to keep track of our spending to make sure we stick to our budget.
We searched the App Store for a good travel budgeting app but didn't find anything decent. So we decided to build an app ourselves.

Jonas
Why or what made you want to start a company?
Jonas: Initially, TravelSpend was just a small side project. But when we published it on the App Store, we soon got some traction and a lot of positive feedback from users. This eventually motivated us to go full-time and grow it to the next level.
Ina: Two things were important when starting the company. On one hand, I wanted to have the freedom to do whatever I wanted to. If I feel like I want to work from another place, I want to be able to do that. On the other hand, it makes a huge difference when you are working on your own projects. You have more responsibilities and you can choose what directions to take your projects and ideas in.
What are some lessons you have learned so far in your entrepreneurial journey?
Jonas: When building a new product or feature, the earlier you can get customer feedback the better. With digital products it's often better to start small and then grow and improve iteratively. I learned through experience that you can reduce the risk of failure by validating your ideas quickly.
Things can change very quickly and you can never plan too far ahead into the future.

Ina
Who are some of your mentors or someone who inspires you?
Jonas: One of the people I'm following is the indie developer Pieter Levels who built Nomadlist, a website and community for digital nomads. He is a prolific maker who launched many bootstrapped products. I like his pragmatic "just do it" mindset.
Ina: Even though I wouldn't call her a mentor, I find Angela Merkel very inspiring. I think it is great that after she has been the Bundeskanzlerin for a few years her gender or her looks didn't matter anymore. She's working very hard and is obviously great at her job. In my opinion, she is a great role model.
If you could invite any 6 people to a dinner party who would they be?
Jonas: I would invite Quentin Tarantino, Angela Merkel, Steve Wozniak and of course my co-founder and partner Ina. I'm sure after a few beers our conversations would be very entertaining.
Ina: I think we're missing Jim Carrey and Jan Böhmermann.
What role does failure play in being a successful entrepreneur?
Jonas: Of course, the fear of failure is very present for entrepreneurs. I think it helps to keep in mind that every failure is an opportunity to learn and that life is not just about business.
Ina: I also think we are in the lucky situation that our world would not collapse if we failed.
For me, being an entrepreneur is an opportunity to grow. If we should fail we hopefully have the chance to learn something from it.

Ina
What are the common qualities of successful entrepreneurs?
Jonas: They are self-driven, persistent and can infect others with their enthusiasm.
Ina: I would add the ability to find a good ratio between taking ownership and trusting in the work of the persons you are working with.
What books are you reading right now?
Jonas: A Gentleman in Moscow by Amor Towles – highly recommended.
Ina: I am always switching between listening to podcasts and reading books, so at the moment I am in my podcast phase. But I have a book recommendation on my list. It is called Humankind: A Hopeful History by Rutger Bregman. He argues in that book that humans are fundamentally decent and I think this can be a great counterpart to all the bad news we listen to all the time.
Favorite new music?
Jonas: Ooh La La by Run The Jewels feat. Greg Nice & DJ Premier.
Ina: I am a big fan of Berlin's radio station FluxFm and I do love Spotify's Discover Weekly lists. So, even though it is not a new song I recently discovered a song played by FluxFm by the Turkish singer Özdemir Erdoğan called Gurbet which I really like.
Watch or listen to anything you would like to recommend?
Jonas: I would recommend the Planet Money podcast. They tell very interesting and often surprising stories about different topics broadly related to the economy.
Ina: SozioPod: it's a German podcast that focuses on a lot of sociological things. They talk extensively about one thesis or idea for each episode. For English listeners, I can recommend Science Vs, a podcast that focuses on looking at topics like sleep, heartbreak, or the American healthcare system from a scientific point of view. They give a lot of insight into studies and how to read them.
What is your superpower?
Jonas: When I'm excited about a new idea or a project I tend to get obsessed with it. This helps me focus but it can also be quite challenging for the people around me.
Ina: I can be very patient and persistent if I have the feeling that something is moving in the right direction.
Can you recall a story from childhood that you feel foreshadowed your current entrepreneurial journey?
Jonas: I've always enjoyed building something from scratch and tinkering with things. My father often helped me with these projects. Since he is a software developer he also supported me a lot when I started learning to code.
Ina: In my family independence and freedom always played a big role. I've never been really good listening to authority figures and I don't compromise if I think there is a better way. At the age of sixteen, I started working in an ice cream shop every Saturday for three years to be able to spend my money on whatever I liked.
Tell us something we wouldn't know about you from reading your CV.
Jonas: Back in university, I played wide receiver for an American football team called Hamburg Ravens.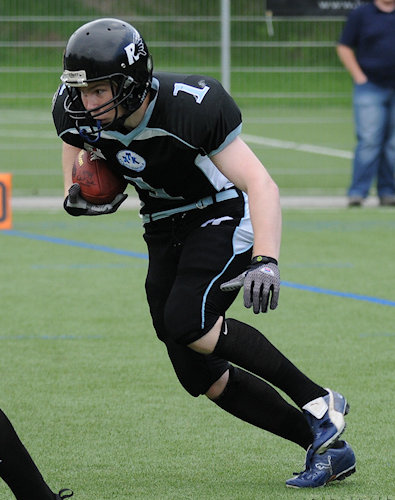 Ina: I recently started to sing in a choir here in Berlin. The songs we are singing are either Japanese anime music or Eastern European folk songs. It is great that we found a way to continue our rehearsals online during the last weeks.
Pick a genre of music that describes your life as a founder.
Jonas: Independent music. Working on our own product makes us feel free and we don't have a big marketing budget. Our app needs to speak for itself.
Ina: Jazz music since we improvise a lot and sometimes it doesn't look like we know what we are doing.
What gets you out of bed in the morning?
Jonas: I'm very motivated by the feeling of freedom that comes with being a founder and I'm usually excited about some idea or project that we're working on.
Ina: Two big cups of coffee and my breakfast muesli.
How do you define a 'good day' as a founder?
Jonas: It's always great to see that people find our product useful. Positive feedback from users is the best motivation.
Ina: I think a good day is if it is midnight and you still feel motivated to work since you believe in your idea.
What's your ideal relaxation activity?
Jonas: Sleep. I love sleeping in on weekends since I feel so relaxed and energized afterward. I also discovered how relaxing and calming a short meditation session can be.
Ina: I really love to stroll around the city. I usually listen to some podcasts or good music. I think it is a great way to get a little exercise and have some kind of meditation or the opportunity to learn something new at the same time.
What was your first job ever?
Jonas: I did a lot of tutoring and babysitting as a teenager. When we were little my brother and I tried to sell fruit from our parents' garden and we cleaned bicycles in the neighborhood to earn some pocket money.
Ina: I actually tried many different jobs during my school time. I worked as a math tutor for my family, cleaned my grandmother's hallway, helped with the accounting in my brother's shop, and worked for quite a while in an ice cream shop and in a discotheque in my hometown.
What is something funny, unique, or embarrassing about you?
Jonas: When I was nine I was a Backstreet Boys fan and tried to style my hair like Nick Carter. I can also count to five in Georgian, erti, ori, sami, otkhi, khuti.
Ina: When I was a teenager I was a huge Robbie Williams fan. I still know most of his songs by heart.
What is your favorite travel experience?
Jonas: A hike that we did in the mountains of Myanmar in the Hsipaw area. We were guided by a friendly and very curious 19-year-old local who led us through the jungle to his home village.
Ina: This hike took two days and we were very disconnected from everything. There was no electricity or internet connection. The locals live a very simple life there. It felt like being in a completely different world and it made us realize that defining satisfaction or happiness in your life is to a certain degree a matter of perspective and what you are used to.
How do you feel about the digital nomad lifestyle?
Jonas: I love the idea of traveling around and seeing the world while I am working on projects that I am passionate about at the same time. Ina and I rented an apartment in Tbilisi, Georgia for one month last year working on TravelSpend and traveling around the country. I can't wait to get back to it after Covid-19 is over.
Ina: I also think it is a great way to use your time and to combine the pleasant with the useful.
Since the travel industry has been dramatically affected by Covid-19, how have you changed your business to adapt to the current circumstances?
Jonas: We have been using the opportunity to connect more with our users. We've conducted a few interviews and talked to some of our users in-person to learn more about them and how they use TravelSpend. We've also launched a blog and spent more time on Instagram to keep in touch with our users and get a feeling of how their travel style and their needs are affected by the Corona crisis.
Ina: In fact, we discovered that even in these difficult times many people are still traveling and using TravelSpend on a daily basis. This is great motivation for us to keep working on the app and adding new features that have been requested many times like cost splitting for travel groups or custom payment methods.
Is there anywhere you would like to travel after Covid-19?
Jonas: Of course, there are many places I still want to travel to. On the top of my bucket list is currently Sweden. We've recently converted my grandfather's old car into a mini camper and we hope we can embark on a road trip through Sweden in late Summer.
Ina: There are many places from our Southeast Asia trip I would love to visit again. I also have some places on my list I am very curious about, like Sri Lanka and Borneo.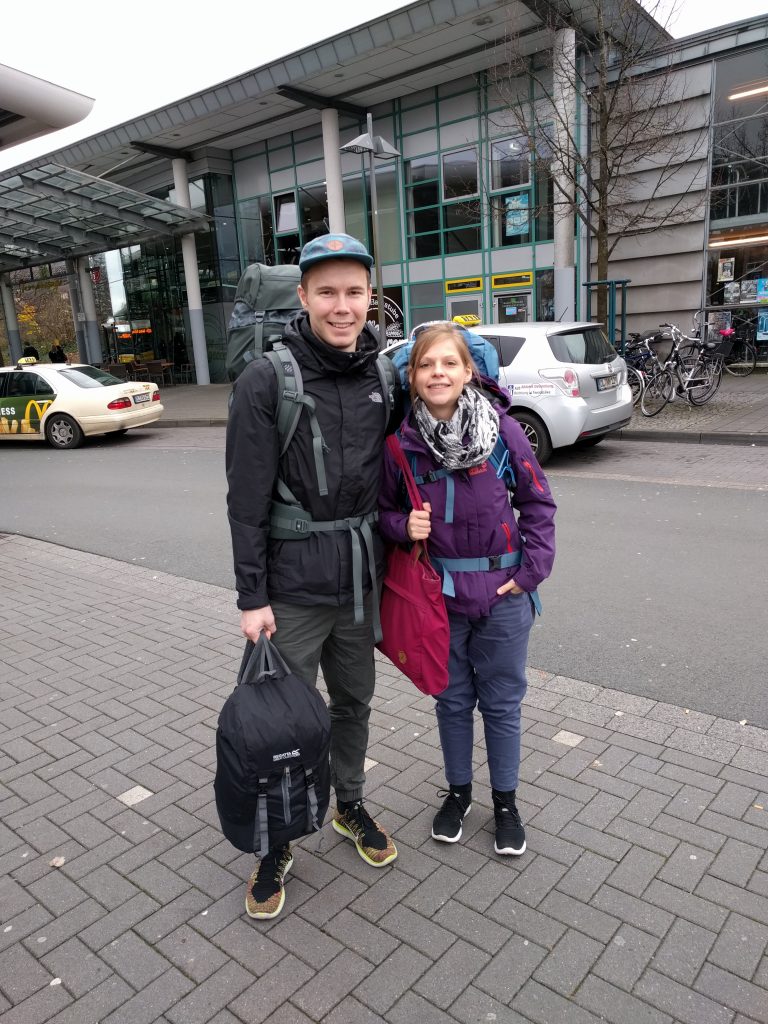 Jonas and Ina right before their departure to Southeast Asia in 2016.
These two globetrotting entrepreneurs are currently funded by the Berlin Founders Fund.