"If you invested in Korea 20 years ago, you'd now be retired"
Jang Yoowi, Residency Korea Program Manager and experienced cross-border business partner.
But, he's got a point. The motherland of major conglomerates like Samsung, Hyundai, and LG, and the country where Google created its first-ever campus in Asia, South Korea has a strong foundation for innovation.
With Korean actor O Yeong-su winning Korea's first Golden Globe award for his role in Netflix hit "Squid Game" and the exponential rise of K-Pop, fascination in South Korean culture in the west is growing, with entertainment leading the way.
"A lot of people didn't know about Korea until recently, the entertainment business has been thriving, but that's just the start of it. We've gone from third world to first world in such a short time and this dramatic transformation means we understand both sides. We're now a thriving democracy and a healthy model for the community which nurtures the soil for startups".

Jang Yoowi, Residency Korea Program Manager
What's the startup scene like in South Korea?
There are now 24 unicorns in South Korea, compared to 39 in Germany, and in 2019 they beat China, Germany, and Sweden in their innovation ranking in the Bloomberg Innovation Index.
South Korea is now the 10th-largest economy in the world. In 2021, there was 78% more venture capital funding for startups in South Korea compared to the previous year. Startups in South Korea also created more jobs in 2021 than the four largest conglomerates combined.
The startup scene in South Korea is clearly having a moment. Backed by the Korean government who want to encourage more entrepreneurial people to start a business as an alternative career path to the big market players. The government has shown clear commitment to the startup scene with billions of dollars invested in innovation since 2013. The president asserted in a recent press conference that the government intends to invest $12 billion more over the next four years.
With this strong government support, the startup ecosystem is thriving and momentum is building.
Marta Allina, whom Silicon Allee met several years ago in Berlin (during which time we might have inspired her to start her own startup community in Seoul), has been living in Korea for the past 14 years, she's ex-Samsung but now calls herself an 'ecosystem builder'. Marta started Seoul Start-ups to help run programs for startups that want to expand abroad, or who want to tap into the Korean start-up scene.
Currently, there's not much of a startup community in Korea, everything is government-driven and organized, so it's not network-friendly. We are creating that community and connecting with government institutions to build a strong and thriving community in Korea".
Marta adds, "Technology-wise, Korea has been pushing for AI and green technologies, a lot of money from the government is being pumped into the research and development of these areas. A lot of investments have been happening in that scene too".
However, in Jang Yoowi's opinion, compared to the level of technology and success, South Korea's globalization is not as accomplished as it could be. 70% of South Korea's GDP relies on foreign exports, so global expansion is really important. So there's a lot of opportunity for foreigners to tap into that.
What part does the Korean government play?
In the past few years, South Korea has seen a surge in startup activity. With the government allocating generous multi-billion funding to support the growth of early-stage startups, there's no doubt that this is a great time for young entrepreneurs to start a business in Korea.
The startup ecosystem in Korea is growing rapidly, but it's still a small market that needs to be connected to the rest of the world, therefore, supporting global market expansion is top priority for the government.
The Korean Institute of Startup and Entrepreneurship Development, or 'KISED', is one of the many Korean Startup and Entrepreneurship Ministries responsible for operating and allocating parts of this multi-billion fund. Their goal is to help startups get off the ground and grow into successful companies that can compete on a global level.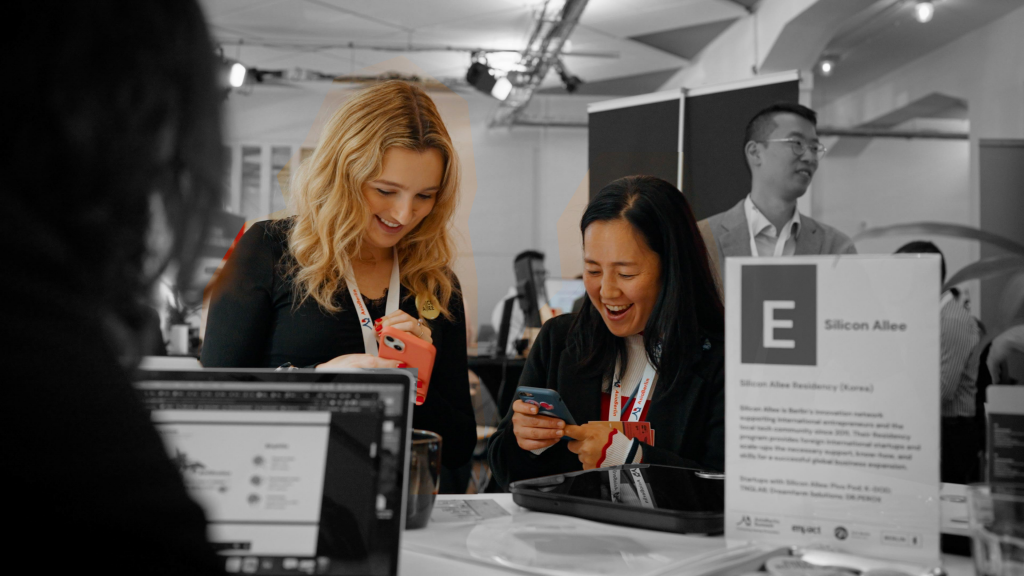 How does Silicon Allee help international entrepreneurs?
In our own efforts, for the past three years, Silicon Allee has been operating similar public funding initiatives in Berlin through the Berlin Founders Fund (BFF) by helping young entrepreneurs build successful international businesses. We are now expanding our mission to help governments outside of Berlin to support their own local startups to expand their business to Germany and beyond.
That's where Silicon Allee's Residency comes in. We offer international startups 'residency' in Berlin and connect them with our extended network of the world's most exciting innovators. This year we have partnered with KISED to support startups from South Korea in their expansion journey and are excited to be working together on this!
Florin, our team member leading Residency says, "It's all about networking and the ecosystem. We are trying to operate together with a bigger agenda".
Silicon Allee is currently supporting seven Korean startups through our Residency program where they follow a three month customized immersive program. We support companies from all industries but we're especially passionate about innovations in medicine, healthcare and sustainable technologies for a better world.
Silicon Allee's partner, Asia Berlin, is holding a week-long summit in Berlin this week with the aim to connect startup ecosystems in Asia and Berlin. We invited our Korean Residency startups to join the Asia Berlin summit with us at our booth, to connect them to the Berlin ecosystem.
We heard from Marten Rauschenberg, organizer of Asia Berlin, who said, "The Residency program fits right in with our mission, that's why Silicon Allee is such a vital and important ecosystem partner for us".
Which South Korean Startups are involved?
Currently in stealth mode:
Dreamfarm Solution – Indoor hydroponic smart garden.
TheLeal create stainless cat litter boxes for increased hygiene.
Dr.Perox who provide a dental cleaning hygiene solution
Angerny provide ESG services for companies and power plants
---
South Korea's innovative startup scene is one to watch, with increasing numbers of startups coming from Korea, it's not only their entertainment sector that's thriving. The partnership between agencies like KISED and Residency support the governmental initiative to support their domestic startups with foreign market expansion.
Those wanting to stay up to date with Korean startup news, check out Pickool and Seoul Z.
If you're looking to join a community of founders, investors and experts in Berlin and beyond. Join Haus here.
If you're a foreign trade promotion organisation interested to support your domestic startups and want to learn more about Residency and think we could collaborate, get in touch below.