Last week I had the pleasure of interviewing Nicola Filzmoser, our very own ukulele-playing, tennis-loving Berlin Founders Fund founder, whose company is taming pain for adolescents with migraine attacks and other chronic pain.
Nicola is originally from Austria and studied Entrepreneurship at The University of Cambridge and MSc in Healthcare & Design at Imperial College London. She's now a multi-award-winning entrepreneur and founder of Happyr Health. She's not only successful, but she's also really lovely and delivered the interview with so much serenity and poise, you'd never know how much she's got going on behind the scenes.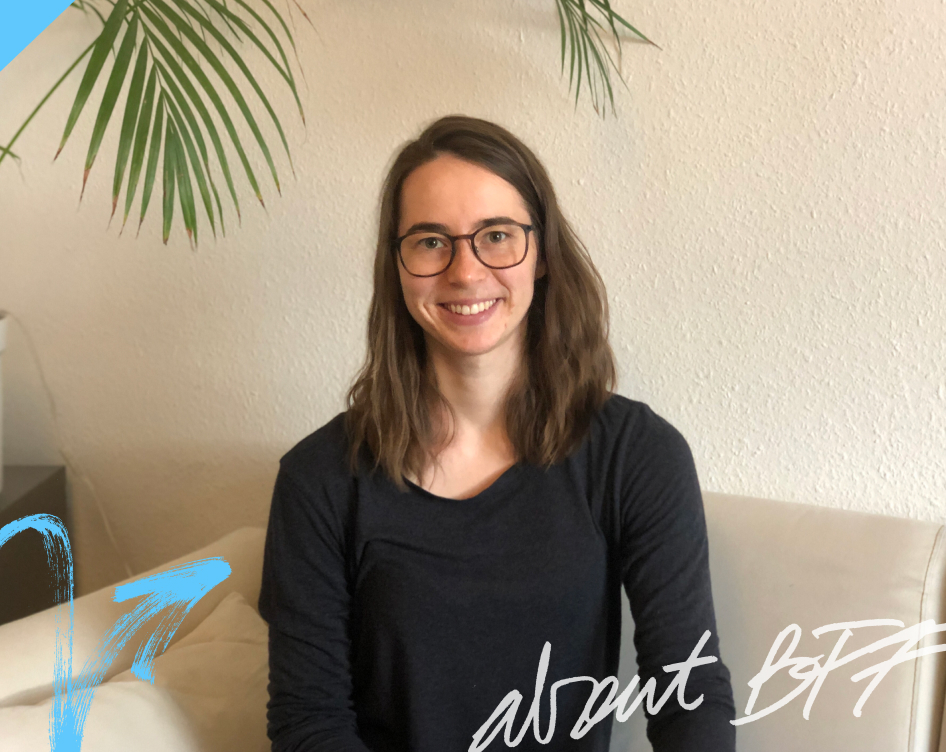 Nicola revealed her secrets to how she keeps it so cool, calm and collected while having so much on her shoulders. She seriously knows her stuff and is building a product backed by thorough and extensive healthcare research, testing and development.
Happyr Health's overall goal is to provide self care tools for teenagers and young people with chronic pain. Being a migraine sufferer since she was young, Nicola knows first hand the struggle to live a normal daily life and how few others truly understand what's going on.
She explained how the biggest challenge with chronic pain management is that it's not just physical pain, 'it's also emotional and social challenges because you feel pain all the time, and as a young person your life changes all the time, there's so much happening and you're trying to find your place in the world'. So there is a need to not only treat the physical pain, but also the the emotional pain.
So tell us about your product…
Our core product is an app, Tamer, which is all about taming your pain. You get personalised self-care exercises that are recommended from research studies, mainly based on cognitive behavioural therapy and following those you'll learn more about yourself and how they can help you, so you're building your self-care rituals.
Nicola and her co-founder Cornelius met at another startup, they found they worked together well, had complimentary skills and shared the same vision, 'it came together well', Nicola said.
What are your hobbies?
I do a lot of sports, I used to play a lot of tennis, do kick-boxing, but because I have migraine sometimes it's not that easy, it's too exhausting. But, I learned to do yoga and I am learning to play the ukulele. I played an instrument as a child but stopped at some point, so I'm happy to get back into that.
What do you think of Berlin?
I really like Berlin. It's very different in summer and in winter (everyone will say that). It's a very diverse city, be it in the people who are here, or the different parts of town. The same for restaurants, you can find any type of cuisine. Tempelhofer Feld is my favourite, the old airport where you can go on the runway, take a bike or roller skates.
What was your first ever job?
My first ever job was at a tennis club actually, in my town where I grew up, me and my family were all members and they had a restaurant/bar.
What's your advice for aspiring founders?
See the entrepreneurial journey as not only the journey of the company but also yourself. A Journey of personal development and giving yourself the space to grow and the time. There will be so many new things coming towards you that you'll feel overwhelmed. It's an opportunity to grow.
The image portrayed of entrepreneurship is usually, you work hard, you win, which is not true. Even looking at research studies, we do not have the capacity to be productive for more than a few hours a day.
Nicola won The Women in Innovation Award which she says had a great support package including a community of other female founders which supported her in many different ways. Unfortunately for me, Nicola didn't share all her champion secrets on how she won such an award with me, instead she was very modest, 'it's like for any award, you had to apply, several questions and a video, share the vision of you and your company.' She's also won the Young Entrepreneur Award, I wonder which one she'll nab next!
Happyr Health really want to help people to better deal with migraine attacks, and support those around them. They are consistently working with neurologists and psychologists and have gathered extensive knowledge on the topic, releasing many products to support this mission. I was happy to see the depth of their research and their science-backed approach to developing their products, putting education at the core.
Nicola told us that 'through sharing their own story and listening to others stories, people are usually really happy to see that there are solutions being developed'.
Happyr Health have also developed an online course for parents on children with migraine attacks, they have a children's book to explain them to children, and a free education series on Youtube.
What would you say are the top 3 qualities of a successful entrepreneur?
1. Curiosity – stay curious and explore new things, don't always be happy with the status quo, have an open mind.

2. Persistence – stick to your plan, it's okay to stop or pivot if you need to, have the flexibility to change.

3.Resilience – it's tough to be your own boss, you're responsible for pushing things forward.
(check out the video above for a more in-depth explanation)
What's in store for the future of Happyr Health?
There's a lot planned, we're continuing development of our products, focusing a lot on educational content, also moving forward with research projects which show how our apps support adolescents with chronic pain. We saw that people find the app really useful for self management, it's a wonderful thing to hear! So we're excited about other user tests.
How has BFF helped you to succeed?
BFF helped us firstly to hold ourselves accountable, the regular check-ins with the team, guidance and having a support system to share successes and challenges with. Also to help with specific challenges, there were always mentors or someone in the wider network who could help. This was awesome for us to move forward.
Nicola recommended us a podcast called, No such thing as a fish, check it out here.
Thanks Nicola and wishing Happyr Health all the success for the future!
The Berlin Founders Fund is financed through funds from the European Union (European Social Fund) and the State of Berlin.