At Silicon Allee, we're fully committed to addressing the urgent issue of climate change and the environmental crisis we're facing. We know how essential sustainability is, and we deeply value initiatives in this direction. As part of our dedication to driving positive change, we're proactively supporting select Brazilian startup founders who share our passion for sustainability.
A bit of background:
Through our Residency Programs at Silicon Allee, we connect foreign startups with the best innovators and partners in Berlin's thriving startup ecosystem. With our extensive network and community in the city, we provide foreign startups with the resources and support they need to accelerate their journey towards international expansion. Our program offers unparalleled access to top-level connections, giving founders the tools to thrive in Germany's competitive startup landscape.
Building sustainable bridges
Residency had the honour of participating in the "Amazonia Bioeconomy Connections" project last year. The project is an initiative carried out by the Brazilian Embassy in Berlin which aims to create a platform for collaboration and technology transfer between the startup and research ecosystems of Brazil and Germany. The focus is on promoting sustainable solutions in the bioeconomy sector in the Amazon biome.
We were thrilled 🙌 to discover an opportunity to bring together the startup and research ecosystems of Brazil and Germany to promote technology transfer. Building on our expertise and extensive network from our Residency Programs and Berlin Founders Fund Accelerator, we aimed to play a meaningful role in driving forward a more sustainable future.
The Amazonia Bioeconomy Connections project focuses on innovative and sustainable businesses with a positive effect on the Amazon rainforest.
Encouraging sustainable Amazon businesses
As explained by Ana Ferro de Aquino, Officer for Energy and Environment at the Brazilian Embassy in Berlin, the Amazon rainforest has been continuously destroyed in the past years. Local communities living there have limited access to education and often even basic life conditions. Therefore, they tend to exploit the forest due to the lack of concrete social or economic alternatives.
"With this project, we want to contribute to the engagement of the population from the Amazon region on sustainable businesses". Creating the conditions for a new economy to flourish and supporting local businesses from a technological, scientific, and diplomatic perspective is also an indirect way of protecting the forest. In this way, we promote not only an economical but also a social and environmental positive change".

Ana Ferro de Aquino, Officer for Energy and Environment.
In fact, as Ana claims, the Amazon region is very unique and cannot support a traditional economic model. "The usual solutions do not work when it comes to the Amazon region. It is fundamental that we combine alternative solutions in innovative and sustainable ways".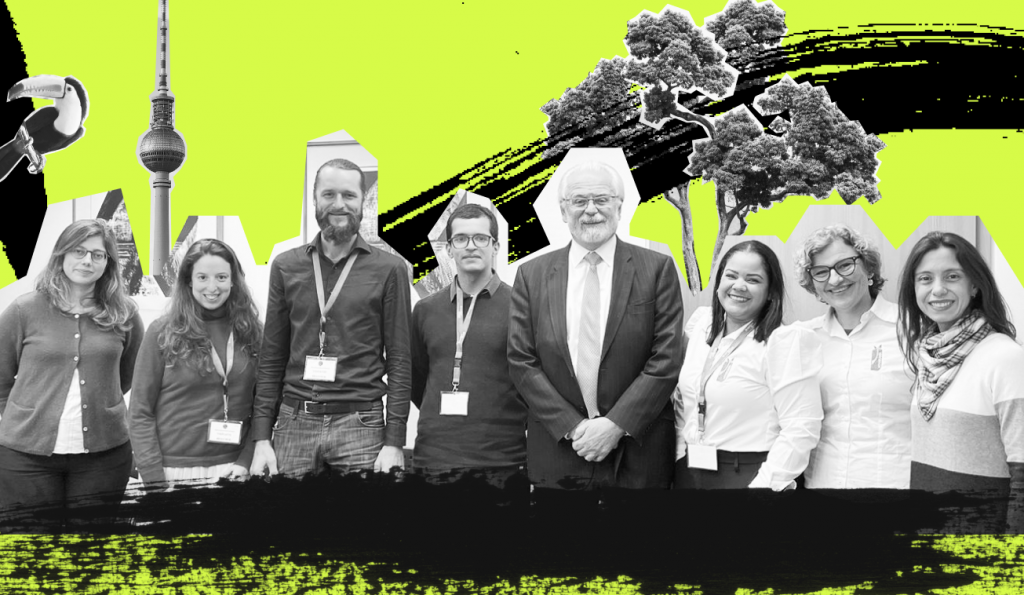 How startups can help
Similarly, Janice Rodrigues Maciel, Manager of the Centre for Green Economy at the project partner CERTI Foundation, identifies the Amazon forest as a crucial player in the environmental crisis we are facing. She claims that innovation and entrepreneurial development through a bioeconomic change are fundamental steps to allow a different perspective and to protect both the Amazon forest and its local communities.
As Janice explains, startups are agile, move fast, take risks and can try out different solutions. Therefore, they also tend to bring change much faster than bigger companies. Moreover, startups place themselves in the middle of the bioeconomic chain and can bridge the existing gap between local communities and big companies. "This is why we are betting that creating an innovative and entrepreneurial ecosystem in the Amazon region can actually transform the reality!" She also adds that the CERTI Foundation does not want to stop here. Their goal is to create a dynamic and innovative ecosystem in the region by stimulating an entrepreneurial culture, creating impactful startups and supporting them along the journey.
"Our thesis is that, through innovation, we can change the scenario. And the best developers for innovation are startup founders!"

Janice Rodrigues Maciel, Manager of the Centre for Green Economy at the project partner CERTI Foundation
Which startups are involved?
Through Residency's involvement with the "Amazonia Bioeconomy Connections" project, we have worked side-by-side with a group of talented founders from the selected Brazilian bioeconomy-focused startups.
Keep reading to learn more about their product and get to know their story! 😎
URUCUNA
Their story:
Lígia and Julia founded their company in 2020 during the pandemic to support the Amazon rainforest and its vulnerable communities. They started by selling local-made artisanal products, but soon moved to working with local artisans and using local products to co-create biodegradable handcrafted scented candles, they now work with 81 artisans and 9 Amazon communities. Their candles are moisturizing and use bio inputs such as sustainably sourced essential oils and butters from the Amazon. The packaging is made from reused/discarded shells and peels, following the principles of circular bioeconomy.Recently, they have developed a knowledge exchange project to promote autonomy within the communities, they spend one week learning artisan skills about producing local products and share knowledge on marketing, pricing and social media. Their innovative approach has positive social and environmental impacts, encouraging indigenous people to stay in the forest and protect it.
"This project has helped us immensely! The experience with the city of Berlin has been great for us not only regarding the market but it has also taught us how to improve our product!".

Lígia
QUASAR SPACE
Their story:
Brazil relies heavily on its abundant natural resources for its wealth and well-being. But here's the catch: it's not always easy to follow sustainable practices in the Amazon region due to clouds and rain. Enter Caio and Thais, the dynamic duo with a solution! They've developed a clever solution to monitor the forest and help producers make eco-friendly choices. Their solution combines radar and satellite data to overcome weather obstacles, providing clear information on the ground. With radar's cloud-penetrating ability and multi-spectrum satellites, they can map tree species, monitor plant health, control water quality, and detect diseases early on, rain or shine.
"We were very excited for this opportunity! First of all, Berlin is a well-known hub for startups, constantly booming with activity and innovation. Secondly, not only Germany is incredibly strong in the aerospace industry, but it is also at forefront in the implementation of sustainable practices. Overall, this project has really helped us! We broadly expanded our horizons and managed to establish strategic partnerships with German researchers, institutes, and companies."

Caio and Thais
SOLALIS
His story:
When Zbigniew arrived in Brazil, h he was fascinated by the abundance in the Amazon – the diversity of cultures and biodiversity. He noticed the importance of local communities in protecting the forest, but they faced significant challenges like lack of energy and clean water. Wanting to improve their quality of life while preserving their traditional lifestyle, he designed low-cost electric boats and floating charging stations. These eco-friendly boats, made of recycled plastic with solar roofs, reduce transportation costs and reliance on fossil fuels. This solution promotes sustainable development, strengthens the local bio-economy, and preserves the rainforest. Zbigniew's next project is a proposal for a 50-person water bus to enhance collective transportation.
"The experience in Berlin has been incredible and the city itself is genuinely inspiring! Everyone at Silicon Allee was very friendly and professional. They opened many doors for us in terms of partners and technology and helped us create crucial connections."

Zbigniew
NOVAPLANTA
Their story:
Susana, a researcher in plant production, has joined forces with the Laboratory of Vegetal Ecophysiology to elevate her work to entrepreneurial levels. Their mission is to expand reforestation efforts in the Amazon region using cost-effective approaches. They strive to develop protocols for native and exotic species of the Brazilian savanna, improve indigenous plants, and rehabilitate degraded areas in the Amazon. Additionally, this initiative aims to provide support to family farmers in the region.
"The experience was important for us. Knowing this environment gave us a new vision of our company's capacity, in addition to having the opportunity to establish contacts for future partnerships for our company (NOVAPLANTA) and for the higher education institution in which I currently work."

Novaplanta
---
Overall, the Amazonia Bioeconomy Connections project represents a unique opportunity to foster collaboration between innovative startups and researchers in Brazil and Germany, aiming to drive sustainable development and economic growth in the Amazon biome. Through being part of this purposeful initiative, we hope to act as a catalyst for impactful solutions in the bioeconomy sector and a more sustainable future.
More to come…
Our collaboration with the Brazilian Embassy in Berlin will continue later this year through a panel discussion hosted by Silicon Allee, featuring top minds in the local impact VC space. We aim to attract financial resources and explore impact investment opportunities in the Amazon region. Stay tuned for more updates as we strive for positive change and lasting impact.
For more information on Residency, click here